Page 10 of 10 •

1, 2, 3, 4, 5, 6, 7, 8, 9, 10

cvincent wrote:I am happy to see you are back at it. Does the bracket attach to the hull extensions or is there a gap in between the bracket and the hull extensions? I am considering building this boat next year. Thanks
Im happy to be back at it

The way Im building the bracket, there will be a gap that is then covered by a swim platform.
front casting deck is laid up and cleats epoxied in.  Gave the compartment a coat of grey pigmented epoxy as a finish. 
Made covers for the fuel chases.  Glassed the back side of them, then epoxied to the frames.  Will round the edges and wrap glass around the outside.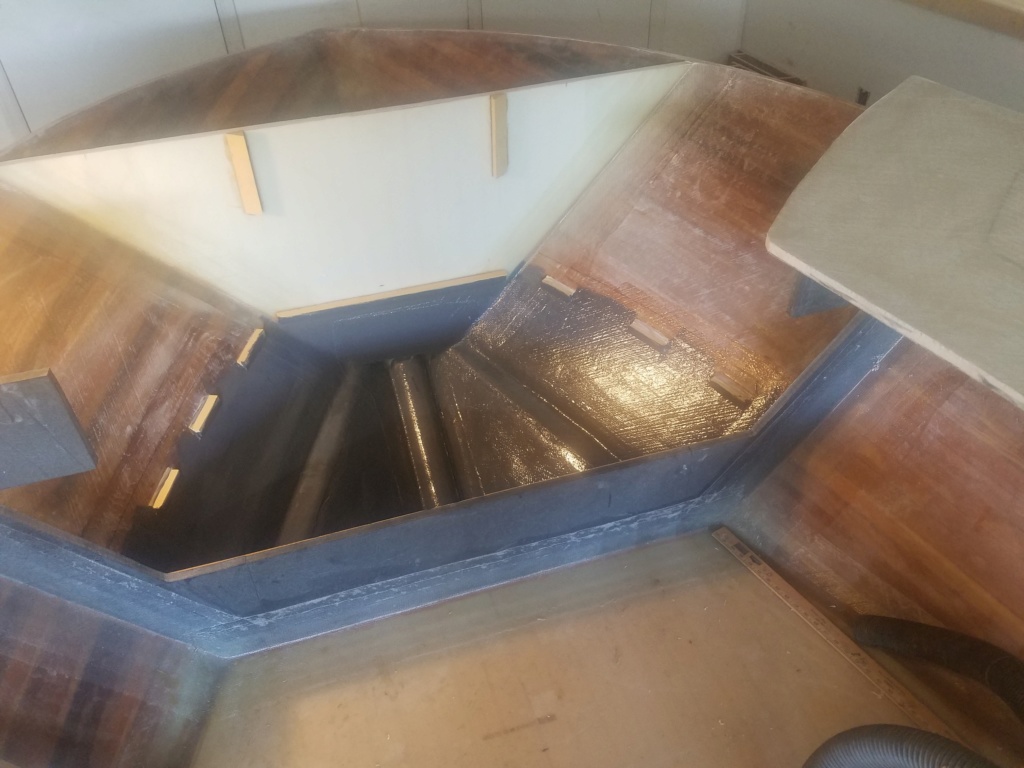 Glassed in the hatch gutter.  Since this hatch is going to get a lot of loads (people stepping down onto it), I glassed the gutter in from the bottom in addition to the eventual glass from the top side.   Epoxied down the casting deck to to the cleats. When bedding down parts into epoxy putty, I like to use little spacers so that I do not squeeze out all the epoxy and it ensures an even fit.  In this case I left the cleats a little low in order to compensate.  A couple pieces of mixing stick hot glued on the top of the cleats.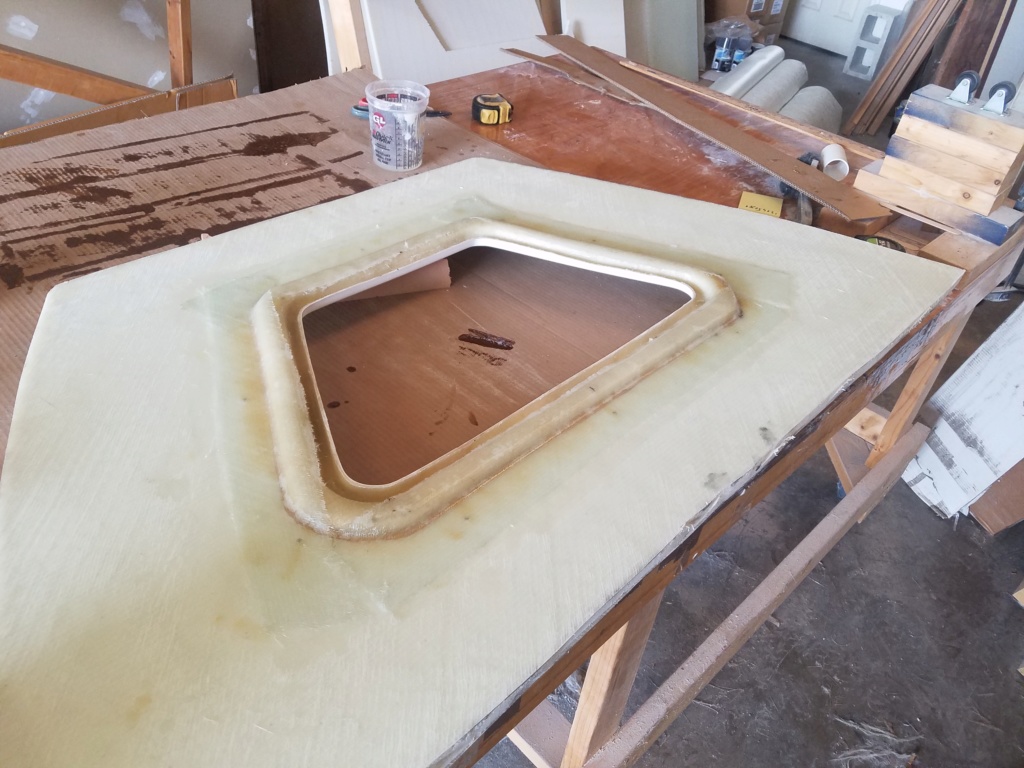 seeing how much of a spacer I need to bring it up flush
spacer on top of the cleat
all glued in a even
Glassed in the fuel chase covers.
Glassed in the forward casting desk, used 2 x 12oz biax tape for the tabbing.  trimmed the transom flush with deck in preparation for fitting the cap/deck.  Put the coaming back in, I will tab the coaming to the frames before fitting the deck on top.  Current plan is to fit foam for the deck (1/2" coosa), trim it to shape, remove and glass the underside, then epoxy it down to the frames/coaming/hull. Will then have to do a little upsidedown glassing in order to tab it in from underneath.   After its all secure from the underside, I will roundover the top edges and the glass the whole thing together, overlapping down the rubrail on the outside.  Would be better to mock the whole thing up, remove to glass the underside, then put back on - I just dont have the space to do it that way.
Making the transom livewell.  It doubles as a structural member, boxing in the transom for added stiffness.  Sides are 2" PVC foam, the bottom is cored with T92.  ground down a drain recess into the bottom.  Volume is a bit over 30 gallons, which is all I want.  Its insulated too, so will get more use as a drink cooler or fish box probably.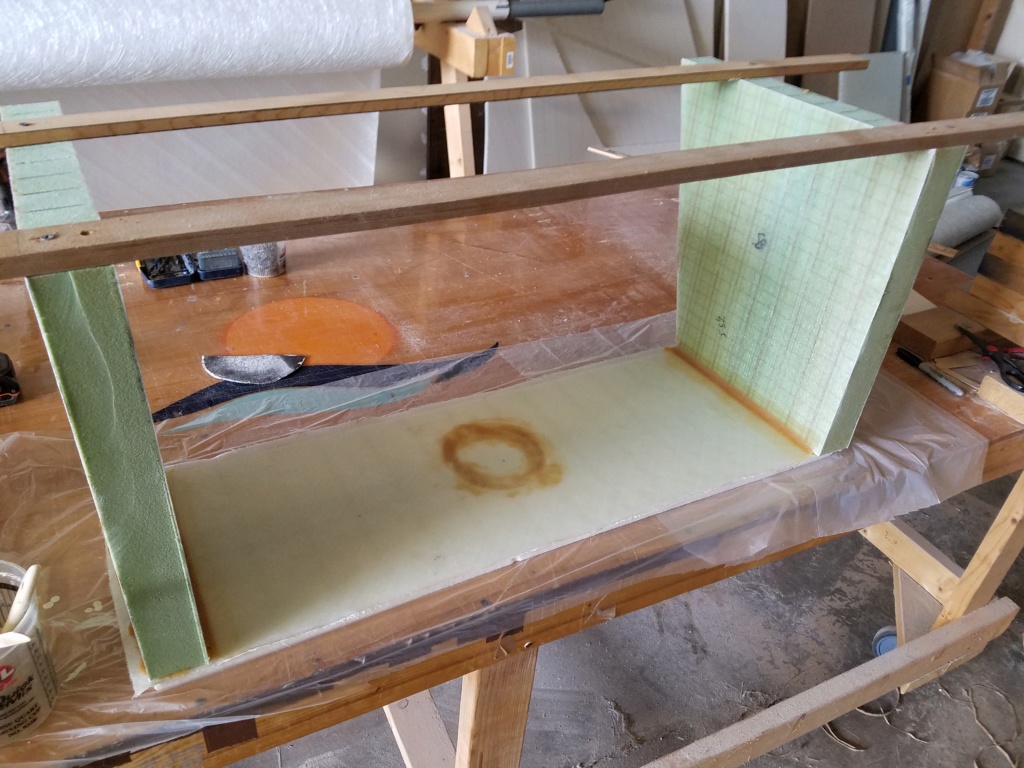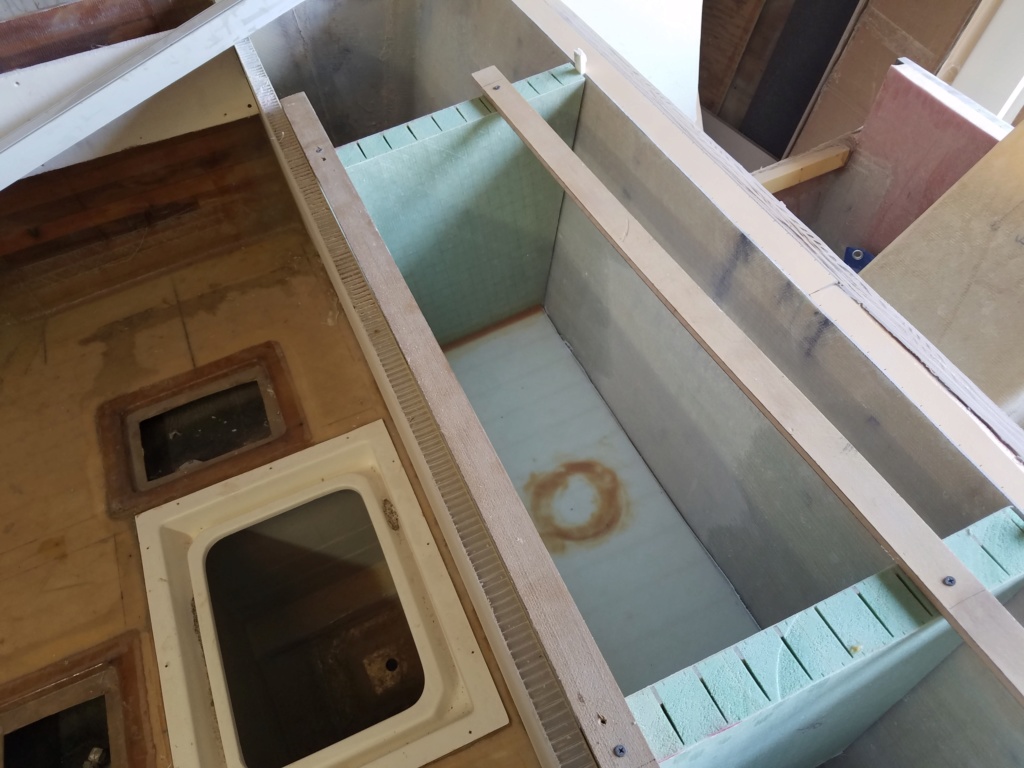 Trimming off the hull extensions. Capping the end with 3/4" coosa. Will leave these hollow with an access plate. I will probably put a grab handle on these. Epoxied in some cleats for extra bonding, cant really reach the inside to glass. Will shape the outside, then glass them over.
Page 10 of 10 •

1, 2, 3, 4, 5, 6, 7, 8, 9, 10


Similar topics
---
Permissions in this forum:
You
cannot
reply to topics in this forum