Stumbled in here and glad to find the forum. I have an old 25 Chawk that has been partially restored. The gunnels have wet wood and I am going to tackle the repair myself. Want to order the proper material and tools now and hope the weather gets better soon. I am in Md. I have already ordered the kiwi from you for the floor and to go over the gunnel repair.

I am working with an area approx. 10" x 15 ft. per gunnel. Going to use treated plywood I guess. Not sure about resins and types of cloth. Any help will be greatly appreciated. Thanks George
Capt.George wrote:Stumbled in here and glad to find the forum. I have an old 25 Chawk that has been partially restored. The gunnels have wet wood and I am going to tackle the repair myself. Want to order the proper material and tools now and hope the weather gets better soon. I am in Md. I have already ordered the kiwi from you for the floor and to go over the gunnel repair.

        I am working with an area approx. 10" x 15 ft. per gunnel. Going to use treated plywood I guess. Not sure about resins and types of cloth. Any help will be greatly appreciated. Thanks   George
Welcome George,
I would not use treated plywood, nothing likes to bond to it. Use regular exterior grade fir, or marine ply if you can find it locally. By sealing the holes properly, the wood will be encapsulated. Use epoxy to sela the wood and to make a glue to bed it in, then cover in glass. Pictures would be helpful for me to give better advise. Will you be doing this from the underside? Are you removing the cap? How to tackle this depends on which side you go from. Ideally, you remove the cap and re-core the underside leaving the top skin.
epoxy is here ..... http://www.gulfstreamcomposites.com/category-s/129.htm
you use the same epoxy to encapsualte the wood, glue in the wood, and to wet out the new fiberlgass skin.
for glass, a single layer of 1708 on the underside (covering the new core) is plenty. We have it in 12" wide which should be about perfect and keep you from having to cut strips from wide cloth
1708 in 12" wide is here... http://www.gulfstreamcomposites.com/product-p/lhm_biax_db1708_12in_yard.htm
for filler, you need wood flour and silica, or the pre-mixed blend.
Post or email me some pictures and I can be more specific.
Joel
Hello Joel Thanks for the reply. I am going to do from the top as removing the cap would be overwhelming for me. She is a pilothouse. I am dealing with a new pc with windows 10 and having issues with sending pics from phone to pc. I will try to enlist the expertise of wifey today to get pics here.
Thank you.
moved this thread to the repair/re-build section.....
Here are the pictures....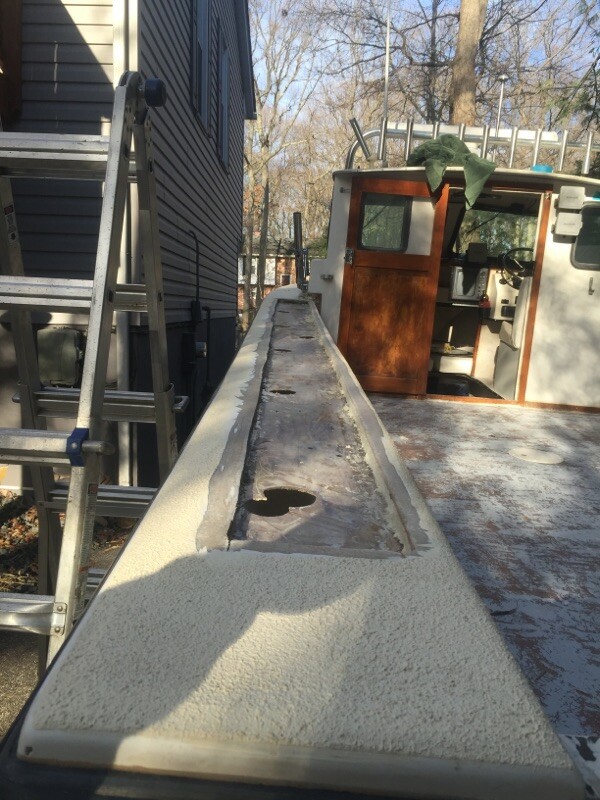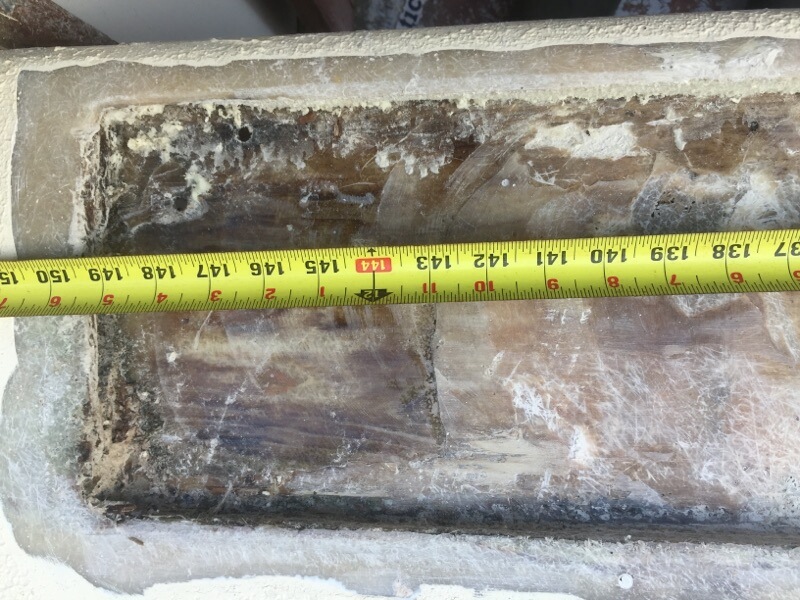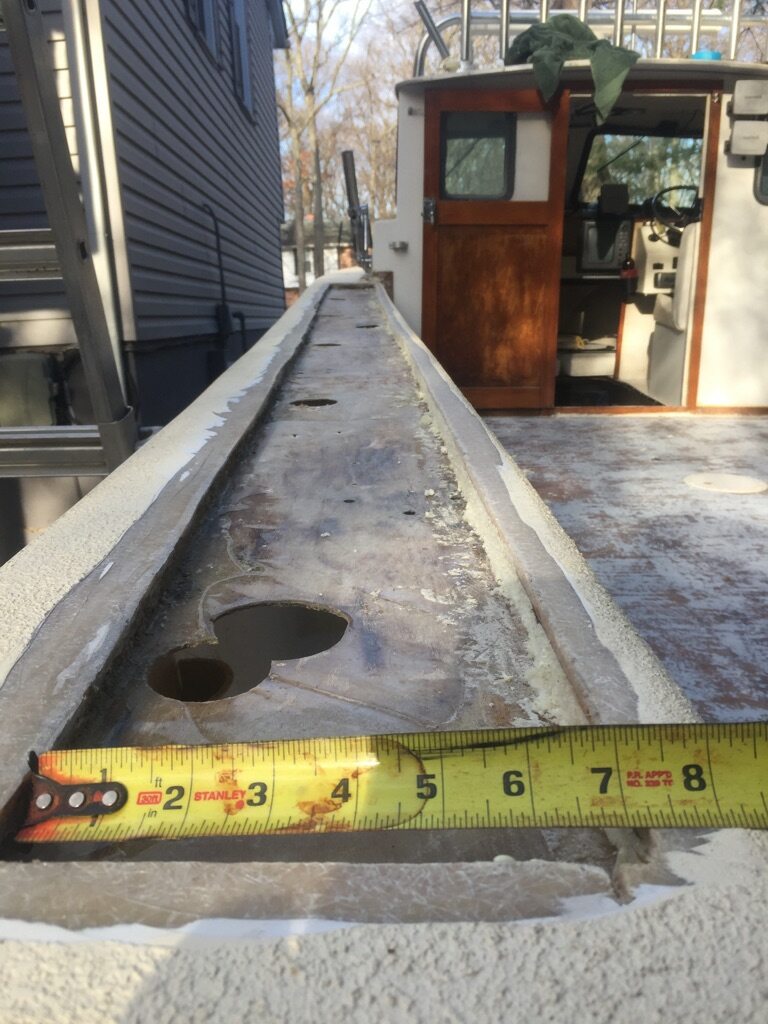 It should be pretty easy, especially since you already plan to roll kiwigrip overtop - that will make the fairing job not much of one.

step one is to epoxy in your new core material. You can use plywood, foam, or honeycomb. If you use light foam or honeycomb then you need higher density core around the hardware.

If you dont care about weight, then go back to a plywood core. Epoxy it down, use drywall screws to pull it down to the old skin while the epoxy cures. Back out the screws, then cover the core with glass, overlapping the old topside skin. I would grind back a little further to give more bonding area for the new glass. I would probably use one layer of 1708 tape to cover it. Make sure all gaps are filled with epoxy putty before laying new topside skin.

Dont use treated plywood unless it kiln dried (which is not very easy to find)

Joel
Thank you Joel!
Will follow your advice and grind back some more. Would like to order the supplies today. In the pictures there is a shot of the starboard gunnel starting to crack so I may as well open that up as well. I will need enough material to do both sides. Will go with the plywood you recommended. Would it be possible for you to put all of the items in a cart and I will pay online? As stated I already have the kiwi. Bought it from you on ebay previous to finding this forum.
One more dumb question. What would be the minimum temperature to do the glass work?
Thanks in advance.
I'm happy to enter the order for you, the best way for me to do it is to take all your information over the phone and then I will type the order in to the website.
Your going to need at least 1.5 gallons of epoxy, enough 1708 tape to cover the gunnels, a bag of glue/fillet blend filler, and a bag of fairing filler. If you take the new Kiwigrip over top of the glass overlap then you can avoid any painting.
Call anytime, if I don't answer it's because I'm filling orders or doing glass work myself

772.633.7923
For temps, you need at least 45-50 degrees no matter what speed hardener you use. Keep jugs warm before mixing helps a lot also.
Thanks Joel for the help and the materials. Received everything over the weekend! Now if it would stop snowing and warm up I can get started.
Capt.George wrote:Thanks Joel for the help and the materials. Received everything over the weekend! Now if it would stop snowing and warm up I can get started.
glad to know you received it all, definitely dont try fiberglassing in the snow



Similar topics
---
Permissions in this forum:
You
cannot
reply to topics in this forum